So you've purchased your domain name and web hosting. Also, you have installed WordPress on your site.
Perhaps you've even installed a WordPress theme. You've just completed the first part. Congratulations!
Now it's time for you to make your WordPress site look amazing!
That process is called WordPress customization.
In this step-by-step guide to WordPress customization, I'll show you how to customize your WordPress site using WordPress default customization settings.
By the end of this tutorial, you will be able to do the following:
Configure WordPress settings.
Add new users.
Select and customize a WordPress theme.
Install, activate and set up essential plugins.
Integrate SEO.
Create your content.
Build a contact form.
Add widgets.
Set up the menu.
Connect Google Analytics.
A Step-by-Step Guide to WordPress Customization
Now let's dive into the 10-step WordPress customization.
NOTE: If you're yet to purchase a domain, web hosting or even don't know where to start, you can check out my post on how to create a blog.
Step 1: Configure WordPress Settings
You will agree with me that there are a lot of places in WordPress that require one setting or another.
WordPress has two key customization: one for your WordPress admin look and feel and the other for your WordPress theme customization.
Having said that, it's important to take a look at these settings so you can familiarize yourself with them.
Customize Screen Options
When you gain access to your WordPress admin area or dashboard, you are likely to see the image below.
And with all of those information, everything can get really confusing.
The first thing you want to do is to turn off some of things you don't think are necessary on that page.
Click on Screen Option to open the settings:
The checked Boxes are the ones that appear as widgets on your dashboard.
Activity provides you with a quick snapshot of new content published on your site.
At a Glance shows you how many pages and posts you have published as well as comments you've received.
Quick Draft is a way to jot down thoughts or notes for a new blog post, but won't get you much further than that.
Welcome is nothing more than an oversimplified checklist for first-time users.
WordPress Events and News aren't really useful unless you're a developer working in the WordPress space.
If you'd like to keep any of these widgets, simply leave them checked. You can uncheck the rest of the boxes to make them disappear from view.
Once you've selected which boxes you want to keep, feel free to drag and drop them around. You can stack them vertically (like in the screenshot above) or utilize both columns:
NOTE: As you start adding more WordPress plugins to your site, you may see new boxes appear on your dashboard. You can keep the useful ones, otherwise, remove them from your dashboard.
Customize WordPress Settings
To update settings in WordPress is very easy, just locate and click on the settings tab on the far bottom left in your dashboard.
WordPress Customization: General Settings
This will take you to the General Settings tab. The two key settings here are your Site Title and Tagline.
NOTE: If you don't have a logo, make sure you have a Site Title. This will appear at the top of the site in its absence. This is also the name you'll see in the top-left corner of your WordPress admin. Also, make sure the WordPress and Site Addresses match each other as well as the domain name you purchased. If either of these is incorrect, it can cause errors.
WordPress Customization: Writing Settings
You may skip the Writing Setting for now until you are able to write and categorize your blog posts.
A Step-by-Step Guide to WordPress Customization
Click To Tweet
WordPress Customization: Reading Settings
Next is Reading Setting under Settings.
Once you've created the content for your site, return to these settings and update Your homepage displays (there are instructions on that below). Otherwise, the default setting is to make your blog feed the home page.
For now, focus on the last two settings.
For each post in a feed, include should be set to Summary. This is useful not only for visitors who want to quickly scroll through the blog topics in your feed but also for speeding up the loading time of the page.
Before you save your changes and move on, make sure that Search Engine Visibility remains unchecked. You definitely want Google and other search engines to find your website and index it.
WordPress Customization: Discussion Settings
The next setting – Discussion Settings – is primarily for you if you wish to blog with your site.
My advice is that you check or uncheck settings around here based on your need.
However, for security reasons, there's one setting you need to note.
Under Default Post Settings, uncheck Allow link notifications from other blogs (pingbacks and trackbacks) on new posts.
NOTE: Pingbacks and trackbacks are notifications that show up in your comment moderation feed whenever someone links to your blog. There's no real value to see pingbacks or trackbacks. In fact, they're a known security risk, so it's best to turn them off and keep hackers and spammers from accessing your site that way.
Save all your settings when you're done with the above.
WordPress Customization: Image Settings
Let's just say you want to adjust WordPress's default image size setting, although not necessary, you can do so in Media Settings.
WordPress Customization: Permalink Settings
The permalink is the full URL you see – and use – for any given post, page or other pieces of content on your site. It's a permanent link, hence the name permalink.
A permalink could include your domain name (www.gogitals.com) plus what's called a slug, the piece of the URL that comes after the domain name (www.gogitals.com/wordpress-customization). This might include a date or a category or anything you please.
A simple permalink makes a URL easy to understand and share.
WordPress gives you a number of options to choose from:
If Post Name isn't selected by default, select it. It keeps your URLs neatly structured and easily remembered.
You can also play with other permalink options such as day and name if you want such URL structure. It all depends on you.
NOTE: As much as you can use any form of permalink structure you want, it's advisable to decide on one before you start to create content (e.g. blog) as this can impact negatively on your SEO if your link structure keeps changing. However, I advise that you stick with the Post Name URL structure.
WordPress Customization: Privacy Settings
The privacy settings is a new feature on WordPress dues to challenges with user privacy and how their information on your site is used.
Select a Privacy Policy page (which WordPress will auto-create for you) that visitors can refer to if they have questions or concerns. By the way, you can create a new page yourself and click on the drop-down as shown above to select the created page.
Step 2: Add New Users
Wondering how to add a new user? It's pretty simply to do.
Let's say a friend intends to assist with writing some blog posts on your site. How do you go about it?
A Step-by-Step Guide to WordPress Customization
Click To Tweet
All you need to do is give access to your site by creating a new user and also setting permission levels for them.
To do this, navigate to the Users tab on the sidebar and click on Users.
WordPress Customization: Add a New User
To add a new user, click Add New User and fill in the details as requested:
The only required fields are marked required. Username and Email are very vital. Create a solid username that cannot be easily compromised.
Also set up user role on the same page before you now add the user. Available roles include subscriber, contributor, author, editor and administrator. Choose the one that works for you.
The role you choose will dictate how much of the WordPress admin backend your newly added users can see and what sort of editing controls they have.
NOTE: An administrator user will have same access as you the owner.
You can also create a password for the new user or just allow WordPress auto-generate a strong one for you. Finally, you can tell WordPress to send the user an email about their account by checking the box as indicated below.
WordPress Customization: Edit a User Profile
You can edit a user profile for yourself or other users on your site. To do this, go to Users > All Users and click on Edit (this should be right under the username you want to edit.)
Just scroll down and start to fill in your profile details. This is much more useful if you plan on blogging as your author's bio will be pulled from here.
The last part of the Users section is Account Management. Here, you can change your password record. This is advisable from time to time or when you feel your password is no longer safe.
Step 3: Customize Your WordPress Theme
Whether free or premium, you have to consider some factors to select the best WordPress theme for customization.
Read: How to Select the Perfect WordPress Theme – 9 Things you Should Consider
Once you've selected a theme, go to Appearance > Themes menu.
WordPress Customization: Installing a Free WordPress Theme
If you want to install a free theme from the WordPress.org theme directory, then the easiest way to do so is to install it via the Admin Theme Search in your WordPress dashboard.
To get started, the first thing to do is to log in to your WordPress admin backend or dashboard (yourdomain.com/wp-admin) and click the Appearance > Themes and then click on the Add New button.
On the next screen, you will have the ability to select from Featured WordPress themes, Popular WordPress themes, Latest WordPress themes or search for a specific theme.
If you have an idea of what features you would like your theme to include, you can use the Feature Filter search tool as well.
As you can see, the Feature Filter tool will allow you to sort themes based on features. An example is that you can sort themes by subject, specific features, and layout.
Simply select the features you would like in a theme, then click on the Apply Filters button. WordPress will then display a list of themes that incorporate your chosen features.
In a case where you already have a particular WordPress theme in mind, all you need to do is type in the name of the theme in the search bar and it should come up immediately if available.
Once you can see the theme, you can click the Preview button to view the theme in your site's Customizer. If you are happy with your selection, click on Install > Activate to activate the theme.
NOTE: You have to click on Install before you can see the Activate button.
Some WordPress themes may ask for additional settings options which you may need to configure.
For instance, your theme may ask you to install the recommended plugins, download demo data, or review settings.
In this case, just follow the on-screen instructions, or click on the customize button to start setting up your theme.
The first installation method for a WordPress theme that we discussed is primarily used for installing free WordPress themes.
WordPress Customization: Installing a Premium WordPress Theme
How about if you want to install a premium WordPress theme or a custom theme like those on Themeforest and Elegant Themes?
Well, the answer is simple!
You can install the premium WordPress theme by uploading the theme's .zip file via your WordPress admin area.
Now, this is supposed to be very easy for you.
To get started, you will first need to download the theme you have purchased from a theme developer or marketplace as a .zip file.
You can also download a theme from WordPress.org by opening the theme's page and clicking on the Download button.
Next, go to the Appearance > Themes in the WordPress admin area and click on the Add New button at the top.
This will take you to the add new theme page showing featured free themes. Since you already have the theme you want to install, go ahead and click on the Upload Theme button at the top.
Now, You will be prompted to choose the .zip file that you downloaded earlier. Select the file and click Install Now.
WordPress will now upload and install the theme for you. Once it has finished, click the Activate link.
This way, you have been able to install and activate your new WordPress theme.
Again, depending on the WordPress theme, it may require you to add additional options.
Therefore, you may need to configure either through the theme customizer or through a separate options panel as the case may be.
WordPress Customization: Customizing your Theme
Now that you've installed and activated your WordPress theme, it's time to customize it.
One of the fastest ways to do this is to use the WordPress customizer editor.
To locate the editor, click on Appearance >> Customize. The customizer should open in a few seconds and should look like this.
NOTE: The look and features on your WordPress customizer are dependent on the kind of WordPress theme you are using. However, the layout remains the same regardless of the theme (with WordPress customizer setting on the left sidebar and preview mode on the right).
I'd like to quickly discuss each of the major settings on the customizer so you can work confidently with them.
Site Identity
If you already updated your Site Title (or Tagline) under General Settings, there's no need to do so again. Remember: these will only appear on the website if you don't add a logo.
NOTE: If you'd like to make your logo yourself with a free tool, you can check out my post on how to create professional designs for free using Canva. Or you can just head over to Canva and create your logo. It has a free (that is sufficient) and premium plan. However, you can use the paid plan for free for the first month. Learn how to create your logo here
2. Logo and Favicon (Site Icon): Both your logo and favicon make your site unique. To add your logo and favicon, click Header >> Site Identity
To add your logo, click on the Select Logo and upload it from your device.
Make sure the logo has a transparent background (which means it needs to be a PNG or WebP). That way, it won't matter what background colour it appears on top of.
If the logo is too tall for space, use the slider to adjust the width accordingly. You don't want it to be so big that there's excessive white space around your navigation menu on the right.
Your favicon or site icon on the other hand is the tiny symbol you see beside a site in a browser tab. See example below.
NOTE: A favicon's dimension is usually 512 x 512 pixels. Make sure it does not exceed that dimension to get the best result.
3. Colours: This is also a very important element in all WordPress themes. However, the kind of theme you choose determines the level of freedom you have to play with colours. Most free themes, may be limited in terms of how much colour customization you can do.
Navigate to Global >> Colours
There are several other things you can customize here. Things like layouts, fonts, buttons and many others.
My advice is that you play around with many of these features so you see how they work. This is will determine what you turn on and off in the settings.
NOTE: Both free and premium WordPress themes follow almost the same pattern of installation and activation. In fact, they usually have the same customizer except that premium themes will have far more features that will make your life easier and provide you with much better ways to express your creativity on your site. And if done right, of course, your site looks much more professional.
Want to go for a premium WordPress theme but don't know how to go about it? Learn How to Select the Perfect WordPress Theme – 9 Things You Should Consider.
Step 4: Install, Activate and Set-up Essential Plugins
There are thousands of WordPress plugins in the WordPress repository most of which are free for your use. However, it's not all that you will need.
In fact, your site speed may be negatively affected when there are too many plugins running on your site at the same time.
So what do you really need to do?
Keep it simple and go for the essential plugins you need.
Basically, you need a plugin in each of these categories: security, caching, backup, page builder, SEO, form builder, list building, image optimization.
Install Your Free WordPress Plugins
The best part is that most of these plugins are free, however, most also have a premium version just in case you want to unlock more features.
But generally, the free version most times should suffice.
Now that you know the essential plugins you need, just go ahead, install and activate them.
To do this, go to Plugins >> Add New:
This is the free WordPress plugin repository. To find the plugin you're looking for, simply type the name in the search box.
In my own case, I will type in Elementor. See the image below:
Click the Install Now button for the plugin you want to add. The button will change to a blue Activate button. Click it to add the plugin and its functionality to your site.
Repeat these steps until you've installed all of your essential plugins.
Install Your Premium Plugins
If you've purchased a premium plugin from a third-party provider or marketplace, it's the same process as installing a premium theme.
Go to Plugins > Add New. Click Upload Plugin.

Then, upload the downloaded files. The installer will automatically install and activate the plugin for you.
Customize Your WordPress Plugins
After installing a WordPress plugin, you'll usually receive a prompt that asks if you're ready to get started, like this introduction from Elementor:
Most times, your activated plugins will be just fine with its default settings, however, you might want to change a few things. Hence, it's advisable to check your plugins' settings.
To adjust settings for your new plugins, you can click on Plugins to show all the plugins you have on your site by now, and then click Setting under the name of the plugin.
You can also just check your left sidebar to see the names of your installed and activated plugins. Once seen, you can click on any of them to adjust its settings to taste.
NOTE: While some activated plugins may have a different name on your left sidebar, some can only be seen when you mouse-over on Settings.
When you just buy a new home appliance, you go through its operational manual. Ensure to go through a plugin developer's resources on how to best use a plugin before use. Saves you a lot of time.
Step 5: Integrate SEO
Now that you have fully customized your site, there's one thing that is equally important. That's Search Engine Optimization (SEO).
Your site needs to be visible when people are searching online. One of the easiest ways to do that is by using a tool called Yoast to set up your site for search engines (e.g. Google) to find you.
A Step-by-Step Guide to WordPress Customization
Click To Tweet
How to Set-up the Yoast SEO Plugin
If you want to optimize your site for search engines such as Google and Bing, Yoast SEO is undoubtedly the best SEO plugin to use.
Apart from its numerous benefits, it easily notifies search engines automatically once your content is published.
The Yoast SEO plugin should be on the left sidebar once you have installed and activated it.
You will be able to see the Yoast interface like the one below once you click on Yoast.
You're going to need some minutes to run through settings customization, but the configuration wizard will speed things up pretty easily.
To start the process, click on Configuration Wizard, then follow the steps below:
1. Environment: Choose Option A (My site is live and ready to be indexed) and click Next.
2. Site Type: Choose the one that applies to you and something else if your category is not on the list. Yoast will let search engines know so they can show your pages and posts to people looking for that kind of content. Click Next when you're done.
3. Organization or Person: Ensure to fill in all the details that pertain to you or your business as the case may be. With this information, online searchers can easily find useful information about you or your brand. Click Next when you're done.
4. Search Engine Visibility: Unless you have private content you don't want people on the web to find, leave all of these values set to Yes.
5. Multiple Authors: For blogs with multiple contributing authors, it's a good idea to activate this setting so that people searching for those individuals will find their archive pages in search and, subsequently, your website. If it's just you writing blogs, keep this value as No.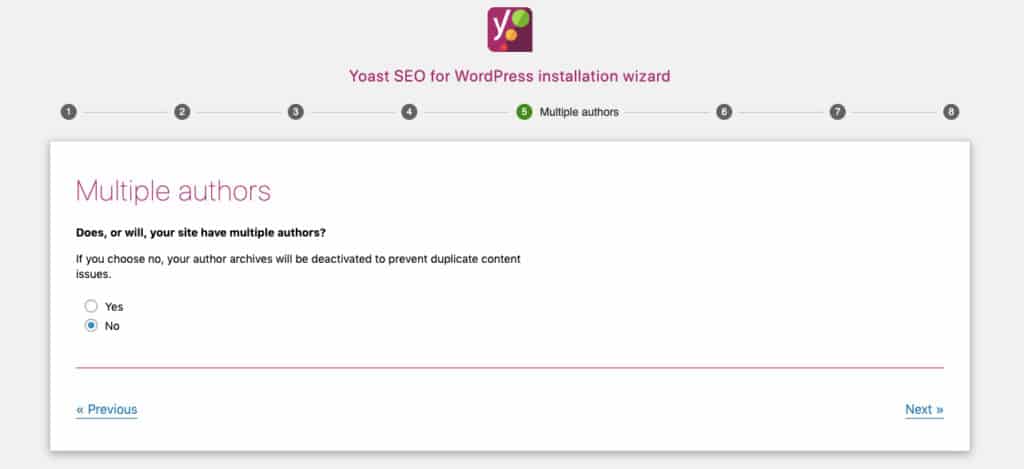 6. Title Settings: Enter the name of your website and indicate a title separator. This will separate your website name from any other information.
See an example of how the title separator works in the image below.
Once you are done with this, you can just follow screen instruction and submit.
Before I show you a little of how to use the Yoast SEO plugin, you can easily find a step-by-step guide here to set up your Yoast SEO plugin.
How to Use the Yoast SEO Plugin
As you create a new piece of content either on your website or blog, you will find the Yoast SEO plugin interface on each page you're trying to create content for.
You will add vital information about your blog post or page in these available spaces. That way, people searching for you will see the information you have added here.
It's a brilliant way to determine what you want people to see. Plus, it helps increases your chances of visibility on search engines like Google.
You will always find terms like Focus Keyphrase, Slug, Meta Description, Readability, etc. as shown below. In fact, you will be able to see how your set data will display on mobile and desktop devices respectively.
For each of your page or post, always fill those SEO fields as required by the plugin. The good thing is that it tells you when something needs to be corrected.
It measures both your SEO score (provides you with tips on how to rank your page or post better for search engines) and how readable your content is.
Some SEO terms to take note of on the Yoast SEO plugin
There are certain important terms to note on Yoast SEO plugin. They are explained below:
Focus Keyphrase (click to expand)
This is the phrase that you want your post or page to be found for e.g. digital marketing, tilapia farming, eye care. This can be one single word, but it usually consists of a few words, which is why it's called a keyphrase.

Slug (click to expand)
A slug is the part of a URL which identifies a particular page on a website in an easy to read form. In other words, it's the part of the URL that explains the page's content. For instance, https://oluwagbenga.com/install-a-wordpress-theme/. The bold part is a slug.


Meta description (click to expand)
This is a snippet of up to about 155 characters – a tag in HTML – which summarizes a page's content. Search engines show it in search results mostly when the searched-for phrase is within the description. So optimizing it is crucial for on-page SEO.


Readability Score (click to expand)
Readability score is a number that tells you how easy or difficult it is to read your text. It tells you, for instance, when writing a blog post if your content is easy or difficult to read.


If you have green signals all the way, it means your content is fantastic and can be published. However, while red means something is really bad about your SEO for that page or the readability of your content is poor, orange means it can improve.
Either way, check the suggestions provided and follow them for an improved result.
Step 6: Create Your Content
You can either be creating content for your website pages or blog posts. One thing that is similar in both is that they have some things in common.
They both have web pages.
Example of web pages include Home, Contact, About, Services, Products, Blog, etc. When those pages are added to menu, they look like the image below:
All these pages have to be created by you for them to appear on your website or blog.
Now, I will show you how to create a page after which you can use that example to create other pages you will need.
NOTE: A page is different from a post. Posts are for timely content. They have a publish date and are displayed in reverse chronological order on your blog page. They're what you should think of when you hear the term blog post. Pages are for static, timeless content e.g. About Us.
How to Create a Page
To create a new page, navigate to Pages (mouse-over) >> Add New or just click on Pages (this will show you all the pages you have on your site).
As you can see from the image above, there are three pages: About Me, Privacy Policy and Sample Page.
While I was the one that created the About Me page, by default, WordPress creates both Privacy Policy and Sample pages.
It's always advisable to create your site's home page first.
This is the WordPress block editor and its associated settings:
You can use this to build your web pages or you can use a page builder plugin like Elementor, Divi or Visual Composer. Adding content to the page is the same with each option.
To add a new page, navigate Pages >> Add New
Name the Page
Make sure to give your new page a name like the one below:
Be sure to hit the Save Draft button as you do this.
Create the Design and Layout
You can either create your page's design and layout from scratch or use a template.
To build it from scratch, add each element one-by-one with a block. This isn't the most time-efficient way to build a website though, so you should probably explore your template options before going that route.
Check your WordPress theme to see if it can help. Some of them come with premade page templates you can import into the site.
If your theme isn't any help, you can use a page builder plugin to add full-page or block templates to fill in the gaps.
In this case, I will be using Elementor page builder. With Elementor, I can create a page under 3-5 minutes and an entire website under 3 hours.
Amazing, right?
NOTE: Elementor, like Visual Composer and Divi, is a drag-and-drop page builder that allows you to create beautiful and SEO-friendly website pages in minutes without writing any line of code. Its free version is all you need to get the job done and you can install it from the plugin section of your WordPress backend. You can check out the premium version here for a feel of its awesome extended features too.
So, I will be using Elementor to create my new page. Go to Pages >> Add New, name your page and Save Draft.
Next, click on Edit with Elementor to customize your newly created page in minutes.
After loading, you should be able to see a page like this:
To make my design faster, I usually use pre-built page templates. To replace the page with a template, click on the folder to access your templates:
Find the template you want to use and click Insert to add it to the page. Since I am designing my homepage, then I should look for templates that will work for my homepage.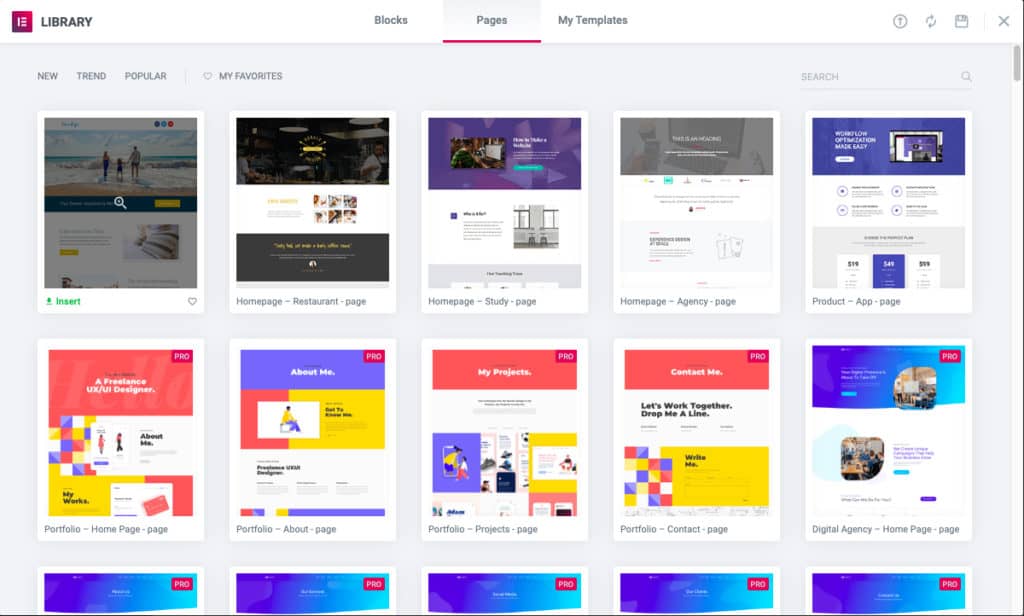 Want to preview the template before inserting? Just mouseover on the template and click on the preview icon that comes up.
NOTE: If you are using Elementor for the first time, you may be prompted to create an account to use the page builder. It's easy. Just create an account by clicking on Get Started, follow the prompt and you will be all set.
While looking for a template to use, you will discover that some of them are premium templates. It means you can only use those if you go for the premium version of Elementor.
However, don't feel bad because there are several other templates that can get the job done for you with just a little creativity from you.
I'd also like to mention that you would have noticed the three sections at the top: Blocks, Pages and My Templates.
Block Templates can be used to create a particular section of your website page(s)
Page Templates are used to create an entire page. In other words, it has everything your page needs. It includes all the blocks
My Templates are your own saved blocks and templates. Elementor allows you to save blocks, sections or templates that you love so you can use them later for other pages. It helps you save time!
Now that you know the basics of Elementor, I will go ahead and insert a template.
This is what my inserted template looks like below:
How to Customize the Layout
Elementor has its own unique customization settings. They are usually three on the left sidebar (Settings, Style and Advanced). But in some cases, you can also see Content, Style and Advanced). Note that Style and Advanced are in the picture. That's because they are very essential in many cases.
Style: This is used to add aesthetics to your web page. Customization like fonts, colours, alignment and many other things can be done on this menu.
Settings: You can make key settings like sitewide changes from this feature.
Content: This tab allows you to adjust content for your web page in a very simple fashion.
Advanced: As the name implies, it gives you an extra layer of features or functionality. For instance, you can determine how you want your site to look across devices or even add some effects to our site.
Layout: Layout allows you to determine how your page should look. For instance, you can determine the dimension of your site from layout, align sections and do a lot more.
Now that I have inserted a template, I can customize it to taste by adding or removing some things.
To add or remove anything, all I need to do is mouse-over the section or element I want to adjust and click on it. Immediately, the setting sidebar on the left will change for you to be able to adjust the marked section or element.
Because I clicked on Design your WordPress, Elementor will display sidebar settings for that particular element. And you can adjust the content on that element, block or section. A quick example is below.
Do the same for all other sections of the page to get a desired feel.
Remember to always Save Draft as you make changes. Do so by clicking on the arrow beside the Publish button below.
Play around with some of these settings and you will become a master in no time.
NOTE: I strongly suggest that you check out this video from Elementor to create pages for your site and also customize them. It will aid your visual understanding.
If you have watched the video tutorial I shared above, you should be able to create beautiful web pages by now.
So I will assume that you have watched the video, therefore, you have customized your homepage to taste based on the inserted template.
Now there is just one more thing to do after creating your homepage.
You want your homepage to be located at https://yourdomainname.com. Not at something like https://yourdomainname.com/home.
To fix this, go to Settings >> Reading. Under Your homepage displays, select A static page:
You can now choose the Homepage (and Blog page, if you created one) from your published pages list.
Save Your Changes.
This will set your Homepage as the front page (the first page people see when they visit) of your website and will start populating the Blog with any posts you write.
NOTE: Don't forget to watch the full tutorial video I shared earlier. It will help you understand how to customize your site faster with Elementor. Here is the link again to the video again.
Step 7: Build a Contact Form
No blog or website is complete without a contact form. Contact forms make it easy for people to contact you.
They easily fill in a form on probably, your contact page requesting your service or support. An example is on this blog at https://gogitals.com/contact-us/
There are several contact form plugins you can use. The good thing is that most of them are free except if you are looking for more functionality.
Top examples of contact form plugins are Contact Form 7, Gravity Forms, WPForms, Ninja Forms and many more.
When creating your contact form, ensure to place it in a very conspicuous place on your site. Also, make sure you only include the fields you will need (essential fields include Name, Email, Phone Number, Message).
After you've embedded the contact form, visit your website and fill it out yourself. Make sure everything works as intended — especially if you set required fields. Then, check the follow-up messages on the site and in your email inbox to make sure all is good.
Of all the contact form plugins, Contact Form 7 is the most used, plus it is 100% free to use.
So, to create your own contact form using Contact Form 7, click this link to learn how to create a contact form from start to finish using the Contact Form 7 plugin.
If you are not so cool with Contact Form 7, then you can try out these other easy-to-use contact form builders like WPForms, Gravity Forms, Ninja Forms.
They are all fantastic depending on what you want!
Step 8: Add Widgets
Widgets are blocks of content that you can add to your site's sidebars, footers, and other areas. WordPress widgets were created to provide a simple and easy way for WordPress users to control the design and content of their site without having to code. Most WordPress themes support widgets.
You can use widgets certain areas of your site such as the footer, sidebar, or even the home page.
Although you could return to Customize to configure your footer, your best bet is to do all the work under Appearance >> Widgets:
In the above image, you can see your Available Widgets on the left and available widget placements on the right.
Your theme may have already pre-populated some of these widgets with content (it's the sidebar in my own case).
Review any of the widgets currently in place. If you're happy, keep them where they are.
If you want to customize the order in which they appear, like moving a list of Recent Posts above the Search bar, simply drag-and-drop the widget block to where you want it to appear.
And if you want to customize the content of the widget, click on the block:
In this example, you can add or change the title that appears above the Recent Posts list. You can also update how many posts will be shown at a time. If you want, you can add the publication date, too.
Now, you don't need to fill any of these widgets if you don't want to. However, if you want to take advantage of this extra space WordPress gives you, take care of filling in all of your widgets before moving on.
Step 9: Set Up the Menu
You need to show your site visitors around your site, and the easiest way to do that is by creating a menu they can navigate.
I'm sure you have seen a lot of navigational menus. They look like this:
To create your menu, navigate to Appearance >> Menus:
Create as many menus as you need here. You will probably need just one.
Give your Menu a Name
Go ahead and name your menu whatever you want as long as it relates to the purpose of its use. If it's going to be a menu for the top section of your site, then you can name it Main or Primary Menu. Once you're done naming, click the Create Menu button.
Indicate the Menu Placement
Now you need to indicate where you want that menu you just created to be displayed. Most times, if it's to be a top menu placement, just check the Primary Menu or whatever name you used as yours.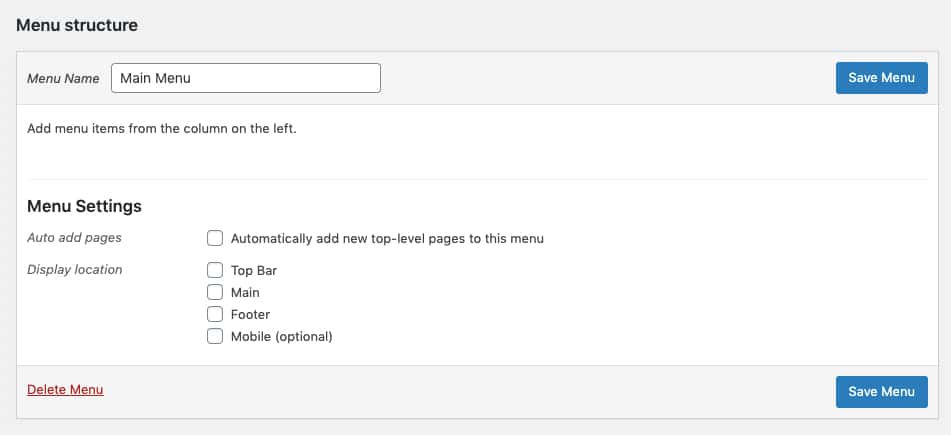 The same way we have created our first menu, you can create another for your site's footer also if you want to display your pages in the footer section of your site.
Keep the Automatically add new top-level pages to this menu unchecked.
Add Pages to your Created Menu
To add your pages to the created menu, click the checkboxes beside them. Then, click Add to Menu. Click Save Menu when you are done adding.
You can add more than just pages, too. If you have blog posts, categories, products, or other links you want to add, do that here.
Your newly added pages should look like this:
You can also drag the order they appear by switching them around with your mouse.
For instance, I can drag About Me to come after Services by just dragging and dropping.
To create sub-pages for top-level pages, drop them beneath with an indent like this:
To remove any added page, just tap on the name and click on Remove:
You can also rename a page from here. To do so, tap on the name of the page and rename in the Navigation Label:
We are finally on the last step of your WordPress customization. Congratulations for making it this far!
There's just one more thing to do.
You need to be able to track engagement on your site. You want to know how your site visitors are interacting with your site pages and content. The pages they visit the most, the gender of your visitors, their locations and many other metrics.
In addition to this, you need to alert search engines that your site is fully ready to be crawled and be visible.
To achieve all this, you need to connect to Google.
A Step-by-Step Guide to WordPress Customization
Click To Tweet
Step 10: Connect to Google
Connect your to Google once it's fully ready to go LIVE.
How to Set up Google Analytics
Google Analytics allows you to track many important metrics, covering all aspects. You can monitor the effectiveness of your online marketing strategies, onsite content, user experience, and device functionality
Follow the steps in this tutorial to create a Google Analytics account and then connect it to your website. You can do this with the help of a WordPress plugin or you can do it manually with code.
Once you have your Google Analytics all set up on your site, you'll be able to monitor your website's traffic patterns and make actionable decisions that will help improve your web performance.
As you've connected your site to Google Analytics, you equally should connect to Google Search Console.
Search Console tools and reports help you measure your site's Search traffic and performance, fix issues, and make your site shine in Google Search results.
Set-up Google Search Console
Google Analytics provides you with data about how visitors interact with your website. Google Search Console, on the other hand, provides you with data about how visitors encounter your website everywhere else on the web.
Now let's connect to the Google Search Console.
Go to your site's backend in WordPress, navigate to the Yoast SEO plugin on the left sidebar, locate Webmaster Tools >> Google Verification Code. Click the link below it to generate your verification code. This should take you to the Search Console verification page.
Next is to click on the Recommended Method tab and copy the meta tag code generated. The copied meta tag will be pasted in the Google Verification Code field I showed you earlier.
Now, go to your site's backend in WordPress, navigate to the Yoast SEO plugin on the left sidebar, locate Webmaster Tools tab and paste the meta tag code inside Google Verification Code box. Click Save Changes when done.
Once you have done that, head back to the Search Console verification page and click on Verify to validate ownership.
Having done that, you are done with verification and should start seeing how your site is doing in a few days. This is depend on how soon your site is crawled by Google bots.
With your Google Search Console, you can begin to get deeper insights into what's going on with your website in search:
NOTE: Google Search Console will help you with key metrics such as clicks, views, searches, keywords used to find you, top search queries, mobile usability, site speed, site security, links and many others.
There's just one last thing to do, and that is, sending your sitemap to Google.
In other words, showing Google bots how to crawl your site. This makes the whole process faster and easier for Google.
Submit Sitemap to Google
To do this, go to Yoast SEO plugin >> General >> Features. Tap on the question mark symbol against XML Sitemaps and click on the link to see the sitemap link for your site.
Now return to Google Search Console, open the Sitemaps tab, enter or paste the sitemap URL you collected and hit the Submit button.
Since your sitemap automatically updates whenever you add new content to your site, you won't have to worry about Google missing out on important updates as it now has your sitemap in Search Console.
Conclusion
As you can see from the entire WordPress customization we have done together, there's a lot you can do with WordPress. It allows you to customize your site to taste.
Whether you're creating a website or a blog, WordPress has got you covered through amazing customization options. Plus it effortlessly makes it possible for you to integrate your site to Google and use many other plugins to supercharge your site performace.
So, what do you decide? WordPress or not? You choose.
If you found this post resourceful, you can take a moment to share on your favourite social platform.
Have any questions regarding the topic? Please drop them in the comment section below, I answer all questions.